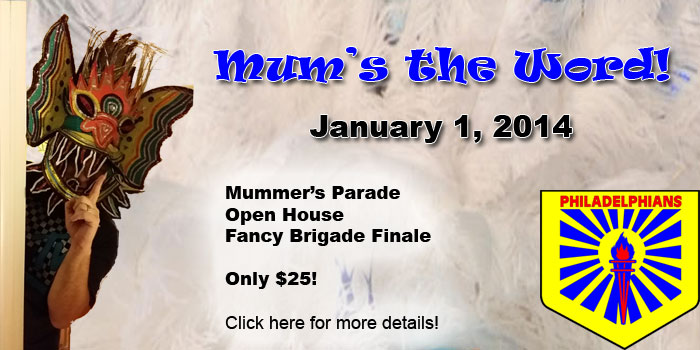 Wednesday, January 1, 2014
Spend New Year's Day with Philadelphians MC!
Mummer's Parade: 10am-5pm, Broad Street. Philly's one of a kind New Year's celebration with costumes, string bands, comics, wenches, and more drag than even we can handle! Don't forget to bundle up, cuz baby it's cold outside!
Open House: Noon-3pm, William Way Community Center, 1315 Spruce Street. Only one block off Broad – pop in and warm up with hot soup, coffee, tea, hot chocolate, sandwiches, music, and all the hot steamy brotherhood you can handle! Check in and pick up your tickets to the Finale show here.
Fancy Brigades Finale: 5pm-8pm, PA Convention Center, 1101 Arch Street. Picture this – ten crews presenting breath-taking sets, props, costumes, pyrotechnics, and choreography as they compete for bragging rights of being the best in town. Starting last year each crew got their very own drag queen from local darling Brittany Lynn's Drag Mafia to introduce their performances with a number of her own!
ALL THIS FOR ONLY $25! (plus online processing fee of $1.05 per ticket)
Hotel room are available in the area but are not being offered as part of registration for this event. If you wish to stay overnight be sure to make your reservations as early as possible.
This is an all-weather event!
In case of bad weather the outdoor parade and the open house may be postponed until the weekend, but the Fancy Brigade Finale will go on as scheduled since it's indoors. The last time the parade was postponed was in 2003, and that was the first time in 13 years. It doesn't happen often. Since you're primarily buying a ticket to the indoor finale show, there will be no refunds due to bad weather. MUM'S THE WORD, and the show, MUST GO ON!!!
Order your ticket to Mum's The Word 2014 today!
Note: to purchase more than one ticket, just add your name to the field below, click Add to Cart, then change the quantity of tickets on the next page. Your tickets will be held under your name and will be available for pick up during the Open House.
** Advance Ticket Sales for Mum's the Word have Closed **
Check with us at the Open House on New Year's Day – there may be a few tickets left!