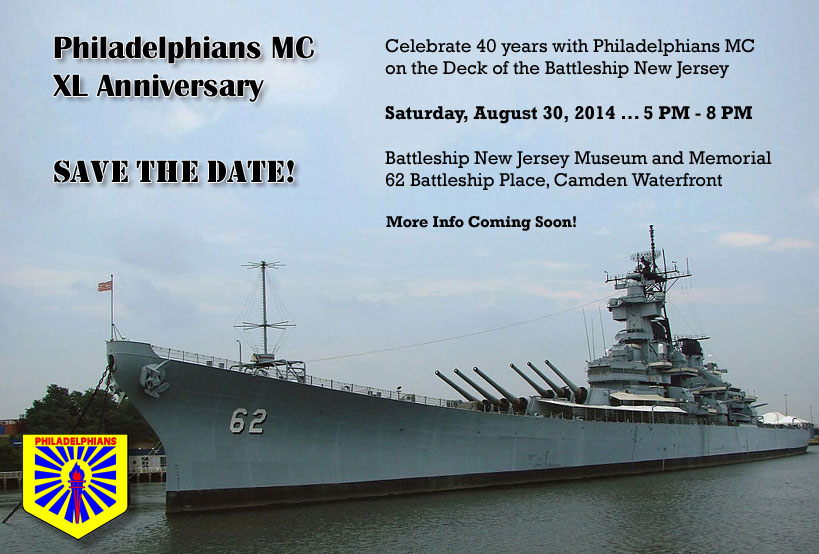 WE'RE SORRY BUT REGISTRATIONS ARE NOW CLOSED
See you Saturday night!
<><><><><><><>
The members of Philadelphians MC invite you to join us on Saturday of Labor Day weekend, August 30, 2014, to celebrate our 40th Anniversary dinner on the deck of the Battleship New Jersey with an amazing view of the Philly skyline.
The party will continue later that night at the AMCC All Club Bar Night at the Bike Stop and into Sunday with cocktail parties, people games, and another great night out on the town!
WEEKEND SCHEDULE:
40th Anniversary Dinner
Saturday, August 30, 5pm-8pm
Battleship New Jersey, Camden Waterfront – www.battleshipnewjersey.org
Featuring a grazing display of hors d'oeuvres, salad, rolls, a buffet featuring seasonal vegetables, potatoes au gratin, chicken roulade or stuffed pork loin, dessert buffet, tea and coffee, a cash bar, and special surprise entertainment! Round trip bus transportation provided from the Bike Stop. This is an all-weather event – don't worry, we'll be under a tent just in case. Formal leather attire requested; shirts and pants required for restaurant health code reasons.
AMCC All Club Bar Night
Saturday, August 30, 10pm-2am
The Bike Stop, 206 S. Quince Street – www.thebikestop.com
Groove to retro dance tunes or get off on the big screen videos as the AMCC CLUBS take over the third floor of the Bike Stop for one night only! Wear your hottest leathers or gear up in military, sport, motocross, rubber, or skinhead gear.
Sunday Cocktails & People Games
Sunday, August 31, 12:30pm-4:30pm
William Way Lesbian & Gay Community Center, 1315 Spruce Street – www.waygay.org
An afternoon of music, videos, cocktail parties, and people games with the Philadelphians and all your favorite AMCC clubs! Interested in hosting a cocktail party? Call now, spaces are going fast!
Captain's Smoker
Sunday, August 31, 5pm-7pm
Ashton Cigar Club, 1522 Walnut Street – www.ashtoncigarbar.com
Kick back and relax with a nice fat stogie at one of Philly's newest cigar lounges. Amazing selection of cigars available for purchase, plus cocktails and a collection of over 250 whiskeys. (The manager has requested no "ass-less chaps." Our Captain agreed and politely informed him that all chaps are ass-less. Otherwise they'd be "pants." Manager laughed. This should be fun.)
Showtune Sundays
Sunday, August 31, 9pm-2am
Tavern on Camac, 243 S. Camac Street – www.tavernoncamac.com
Sing along to music videos, show tunes, and a wide variety of video entertainment. Just like Sidetracks in Chicago – with a Philly twist!
HOTEL INFORMATION:
A special discounted rate is available at the Holiday Inn Express, just a couple blocks from the Bike Stop. The discounted rate is good for any combination of Friday, Saturday, or Sunday nights.
Special Rate: $139 per night for up to three nights (Fri/Sat/Sun)
Holiday Inn Express, 1305 Walnut Street
Make it a weekend! The special rate is good until July 29 so call today! 888-752-5341 and mention the AMCC Group Block Code ACG.
Wireless internet, rooftop swimming pool, and breakfast included!
Other Hotel Options:
The Upstairs Inn at UBar, 1220 Locust Street, www.ubarphilly.com, 215-546-6660
Alexander Inn, 301 S. 12th Street (at Spruce), www.alexanderinn.com, 877-ALEX-INN
DoubleTree by Hilton, 237 S. Broad Street (at Locust), www.doubletree3.hilton.com
Independent Hotel Philadelphia, 1234 Locust Street, www.theindependenthotel.com
Rodeway Inn Center City, 1208 Walnut Street, www.rodewayinn.com