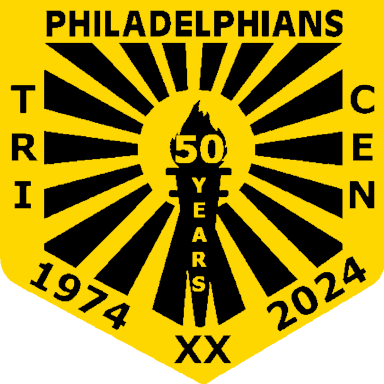 Celebrating the Golden Age
of Inappropriate Public Behavior
December 29th, 2023 – January 1st, 2024
After a (too) long hiatus, and to kick off our 50th anniversary year, the Philadelphians MC is proud to present Tri-Cen XX, our signature New Year's run! Join us in the City of Brotherly Love for a weekend-long celebration as we ring in 2024 and celebrate 50 years of behaving inappropriately in public!
The following is some preliminary information to help you start planning:
~ ~ ~ ~ ~ ~ ~ ~ ~ ~ ~ ~ ~ ~ ~ ~ ~ ~ ~ ~ ~ ~
DATES
December 29th, 30th, and 31st, 2023, and January 1st, 2024.
LOCATIONS
The majority of the run will take place in the host hotel (TBD), with some events taking place on the 3rd floor of the Bike Stop, and a formal dinner in a restaurant banquet space (TBD).
RUN PASSES
There will be three levels of run passes:
The Liberty Bell run pass is $189 and includes all run events over four days and three nights, beginning at 6 PM on Friday, December 29th.
The Ben Franklin run pass is $159 and includes all run events over three days and two nights, beginning at 1 PM on Saturday, December 30th.
The Love Park run pass is free to attendees of the AMCC meeting who are not otherwise participating in the run, and includes all scheduled events at the Bike Stop on Saturday, December 30th, from 1 PM to 6 PM.
EVENTS AND ACTIVITIES
A specific schedule will be published in the near future when details come available. Events and activities will include:
A "Welcome Back" happy hour at the Bike Stop
The quarterly AMCC meeting
A Kink/BDSM demo hour
The Philadelphians-infamous "People Games" party contests
Many club-hosted themed cocktail parties
An "after-hours recreation" space
A formal-dress banquet dinner and award ceremony
A formal cocktail hour, hosted by Charter Member Richard "Pearl" Ball
A Philadelphians MC signature "Crankshaft" New Year's Eve gear party at the Bike Stop
All meals provided, including complimentary breakfast at the host hotel, and catered lunches/dinners from local providers of traditional "Philly" fare!
~ ~ ~ ~ ~ ~ ~ ~ ~ ~ ~ ~ ~ ~ ~ ~ ~ ~ ~ ~ ~ ~
*** WATCH THIS SPACE ***
More specific details, including when and how to purchase run passes and book rooms in the host hotel, will be disseminated as soon as they come available; be sure to sign up below for email updates!
UPDATE 1/23/2023: We are working out some final details with the last two candidates for the host hotel, so we have delayed making a decision until our next general meeting (2/6/2023); we expect to have contracts signed shortly after, and will announce on all social media venues when pass purchasing and hotel reservations are open.
More details coming in
~ ~ ~ ~ ~ ~ ~ ~ ~ ~ ~ ~ ~ ~ ~ ~ ~ ~ ~ ~ ~ ~